Mission
Mission is woven throughout the activities of the church; however, here are some of particular note (in alphabetical order).
Ballard Community Center
The Ballard Community Center receives non-perishable food items from our two food baskets. The congregation also donates school supplies for the Center's Back to School kits for local youth.
CROP Walk
For the CROP Walk in 2013, we had 23 walkers, who raised more than any other group in Lawrence ($3,106). Afterwards, the Mission Committee served ice cream to all walkers.
Heartland Center
West Side contributes to the Heartland Center, the nearby Presbyterian camp and conference center.
Lawrence Community Shelter
Through our weekly donations from West Side's Red Wagon, the Lawrence Community Shelter receives breakfast items, coffee, baby formula, etc.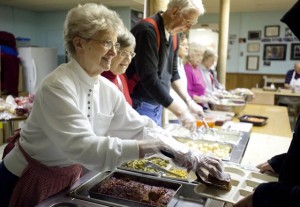 Lawrence Interdenominational Nutrition Kitchen (LINK)
West Side Presbyterian Church serves a noon meal at LINK on the second Thursday of each month, providing food and fellowship for people who are homeless and in need in our community. West Side was one of the first churches involved with LINK. In fact, we're known as "the meatloaf church" and the Lawrence Journal World wrote an article about us: http://www2.ljworld.com/news/2012/dec/24/longtime-link-churchs-meal-organization-meatloaves/. We provided $1,023.55 to LINK in 2013, and in 2012, we served 1,996 meals with the number of people per month varying between 100 and 179. (For perspective: In 2003 we served 1,400 meals, and in 2011 we served 1,800 meals.)
In addition to our monthly meal at LINK, we also participate in the LINK Fundraiser and serving or providing food for the LINK Thanksgiving meal.
Minute for Mission
The Mission Committee members, and anyone from the congregation who wants to, present various mission opportunities and personal stories during the Sunday worship service.
PCUSA Theological Fund
West Side contributes to the PCUSA Theological Fund as an investment in the future of the denomination's leaders.
Special Offerings
The Mission Committee usually promotes four Presbyterian-sponsored special offerings:
*Portions of these offerings went to support the Willow Center.