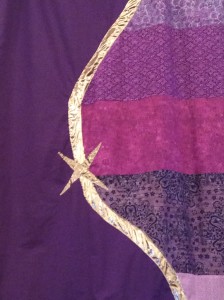 Worship is at 10:00am on Sunday mornings. All are welcome!
Our Advent theme this year is Waiting for Emmanuel, which we will experience through music, scripture, liturgy, and visually. In Advent, the beginning and end times meet. We wait with expectation and hope for the One who fulfills God's saving purpose, and we live into the hope of the One who has already saved us. Emmanuel, God with us, now and to come. In worship, we will explore one hymn each week as the worship focus. The last hymn in each service will be a Christmas carol, but usually only a few verses, just to give us a taste of what we are waiting for!
December 3 – First Sunday of Advent. Waiting with Expectation. Worship focus: Come, Thou Long Expected Jesus; Mark 13:24-27.
December 10 – Second Sunday of Advent. Waiting with the Heavenly Host. Worship Focus: Let All Mortal Flesh Keep Silence; Isaiah 40:21-27, Luke 2:13-14.
December 17 – Third Sunday of Advent. Waiting for the Messiah – The O Antiphons. Worship Focus: O Come, O Come, Emmanuel (based on the O Antiphons, each verse is a name of Christ); John 1:6-8, 19-28.
December 24 – Fourth Sunday of Advent. Waiting to Receive Emmanuel. Worship Focus: In the Bleak Midwinter; Luke 1:26-28, John 1:1-5, 10-14.
December 31 – New Years' Eve Day. Come and celebrate the closing of one year and the beginning of the next.